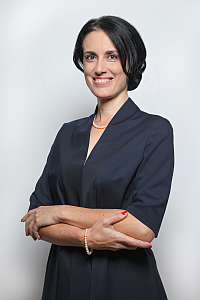 Vicepresident of the Supreme Court
JUDr. Andrea Moravčíková, PhD.
Mrs. Morvačíková was born in 1974. Graduated from the Faculty of Law of Comenius University in Bratislava where she earned a "JUDr. – Iuris utriusque doctor" degree in 1999 and obtained a Ph.D. in 2002. In 2004-2006 she did a distance diploma program at the University of Cambridge.
She completed several fellowships at St. Anne's College, Oxford University in the United Kingdom, St. Louis University in the United States and Göteborg University in Sweden. She has attended a number of EJTN-European Judicial Training Network and AECLJ-Association of European Competition Law Judges workshops, as well as ENTraNCE distance program of the EUI Florence, Italy and ERA in Trier, Germany. She went to a long term internship at the Court of Justice of the European Union in 2019-2020.
Andrea Moravčíková was appointed a judge in 2008. She became a presiding judge of a panel at the Civil Law Division of the Regional Court in Trnava. In 2015 she joined the Supreme Court of the Slovak Republic as a judge of the Commercial Law Division.
She has published a number of specialised journal papers and conference proceedings on Commercial Law, Competition Law and Commercial Obligations. She is a co-author of commentaries to Commercial Code and Civil Code. She serves as a member of editorial boards of professional legal journals From Judicial Practice and Private Law